Detailed information on the fleet of Ahnapee & Western boxcars which were acquired by the Crab Orchard & Egyptian Railroad in the 1980s.
---
The Crab Orchard & Egyptian (CO&E) acquired 25 of the Ahnapee & Western's 4000- series double door boxcars in the 1980s.
All of the CO&E cars had small stenciling for NOR 6-83 and 11-83 where the "NEW" date would be stenciled. When the cars were sold in March 1984, the GB&W Norwood shops covered the large AHW logo with bright orange paint. The first two cars to arrive on the CO&E received logos, but the remainder were put into service without them. The cars are now roaming the country re-lettered for McCloud River (MR) railroad, along with many of the other AHW 4000- series cars.
Edward Bridges, the unofficial historian of the Crab Orchard & Egyptian Railroad who is also modeling the railroad in N gauge, personally researched each car while he was an employee of the CO&E. The AHW numbers were verified by carefully looking at the re-stenciled number to make out the outline of the old number.
The following is a car by car list of all 25 CO&E boxcars. Hopefully Edward will get us a picture of the CO&E version of the cars soon.
AHW
Number
COER
Number
NOR
Date
BLT
Date
Notes
4000
1417
12-77
4001
1418
6-83
12-77
4002
1423
11-83
12-77
4013
1419
12-77
4014
1400
11-83
12-77
4017
1413
11-83
1-78
4021
1420
12-77
4024
1414
12-77
4027
1404
11-83
12-77
4028
1405
12-77
4036
1412
11-83
1-78
4037
1406
12-77
4042
1407
11-83
12-77
4047
1401
6-83
12-77
4049
1422
1-78
4058
1408
11-83
1-78
Received CO&E heralds.
4059
1424
6-83
12-77
4061
1409
1-78
4065
1410
1-78
4066
1402
1-78
4067
1415
6-83
1-78
4077
1411
1-78
4086
1421
1-78
4096
1403
1-78
4097
1416
1-78
Received CO&E heralds.

This car has Superior doors on one side of car, Youngstown doors on the other. (All cars were originally equipped with Youngstown doors.)

AHW
Number
COER
Number
NOR
Date
BLT
Date
Notes
COER Boxcar Images:
COER 1408 (Ex- AHW 4058)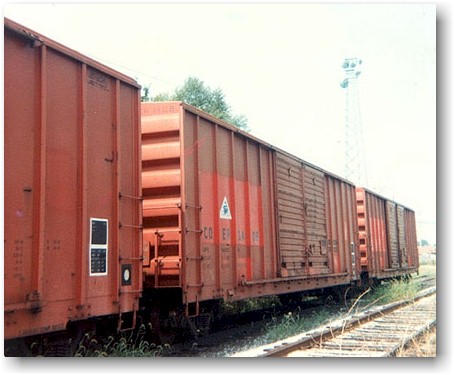 COER 1415 (Ex- AHW 4067)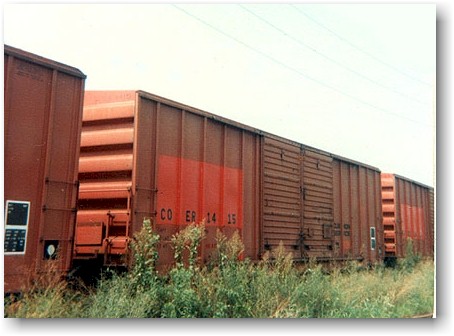 Edward Bridges photo, 1986