O-27 Boxcar (O) - Menards is producing their O gauge 40' boxcar in a Green Bay & Western lettering scheme.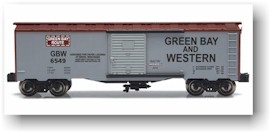 40' Wood Reefer (HO) - Athearn is producing their HO 40' wood reefer in a Western Refrigerator Lines paint scheme in three road numbers. The ready-to-run model in Athearn's Roundhouse line.


WRX Reefer Decals (O) - Protocraft has two decal sets for O scale Western Refrigerator Lines wood refrigerator cars. One set is for reefers in the 1929-1950s as-delivered scheme, and another set is for reefers in the 1940s-1960s scheme.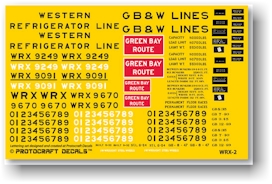 Embroidered jackets - Daylight Sales has jackets with an embroidered Green Bay Route logo on the front. They are available either mid-weight or 3-in-1 with a zip out lining and removable hood, sizes adult small through 6XL.
GB&LP Headquarters - The headquarters of the Green Bay & Lake Pepin Railroad still stands in Green Bay today.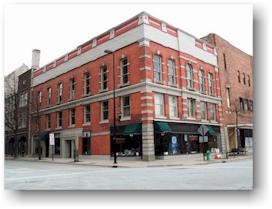 Railfanning the Upper Great Lakes Volume 1 - Includes videos of a GB&W boat train and road jobs between Green Bay and Winona. ( DVD VHS 66 min. )
40' PS-1 boxcar with 6' door (N) - Atlas is producing its 40' PS-1 boxcar in a GBW paint scheme with two road numbers.