Large Gauge WRX Reefer (G) - USA Trains has a new WRX wood reefer.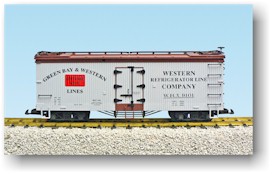 Limited Run Reefer (HO) - Accurail will be selling a limited run Western Refrigerator lines wood refrigerator car kit at Trainfest in Milwaukee, November 14-15, 2015.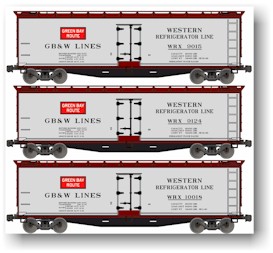 GREEN BAY ROUTE Decals (HO) - Circus City Decals & Graphics has GREEN BAY ROUTE heralds and reporting marks.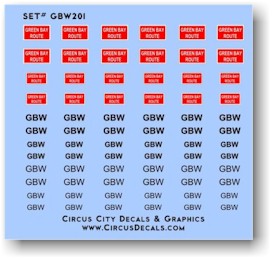 Alco HH 660 model (HO) - Atlas will be producing their Alco HH-600/660 locomotive model in GB&W's 1945 black paint scheme.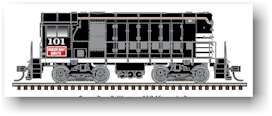 O-27 Boxcar (O) - Menards is producing their O gauge 40' boxcar in a Green Bay & Western lettering scheme.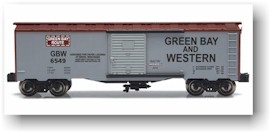 40' Wood Reefer (HO) - Athearn is producing their HO 40' wood reefer in a Western Refrigerator Lines paint scheme in three road numbers. The ready-to-run model in Athearn's Roundhouse line.


WRX Reefer Decals (O) - Protocraft has two decal sets for O scale Western Refrigerator Lines wood refrigerator cars. One set is for reefers in the 1929-1950s as-delivered scheme, and another set is for reefers in the 1940s-1960s scheme.