Yellow Gondola (HO) - is producing their ready-to-run 53' Thrall Gondola in a yellow GB&W paint scheme.


No. 2 at Norwood (1986.10) - This trio of GB&W Alco C-424s arrived at Norwood Yard on Train No. 2 from Wisconsin Rapids on a crisp October morning in 1986.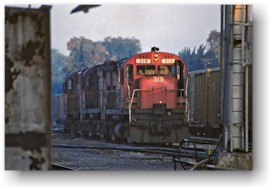 GBW #310 Leads a Freight Train (HO) - This photo of a freight train on the main line was taken on the North American Prototype Modelers HO scale layout in Milwaukee, Wis.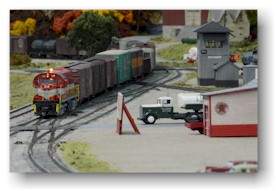 GB&W #402 (1939.08.13) - Power suitable for a first-class railroad finally arrived with the three 2-8-2 Mikados #401-403 from Alco in 1937.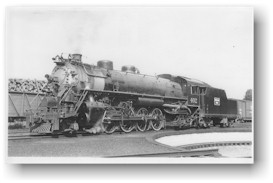 KGB&W #142 (1938.08.04) - KGB&W #142 was one of four similar ex-New York Central 0-6-0 steam switching locomotives acquired from General Equipment Co. in 1923-25.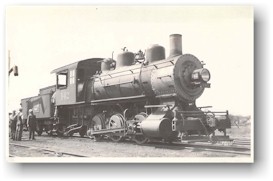 ---
January - February Poll:
Steam Locomotives
The Green Bay and Western Railroad was a paper carrying line and bridge route operating between the Mississippi River at Winona, Minnesota and Lake Michigan at Kewaunee, Wisconsin, via Green Bay. It was chartered in 1866 as the Green Bay and Lake Pepin to provide an outlet for the region's timber and agriculture.
Information on the Green Bay Route, including a brief history of the railroad, rosters, timetables, and a short story about growing up near the railroad in the 1940's.
Power on the Green Bay Route: How a Wisconsin short line transformed itself into a high-speed bridge line.
Freight cars, passenger cars, MOW equipment and cabooses.
A collection of Green Bay Route photos and printed material, including an 1885 passenger schedule, photos from a 1969 train wreck and some newspaper ads.
We've got enough Green Bay Route paperwork that it deserves it own category! Matchbook covers, train orders, railroad passes, and other paperwork associated with the Green Bay Route.
Information for modelers of the Green Bay Route.
Sources for additional Green Bay Route information in print and on the internet.
Mr. Web Counter says that you are visitor number