The Green Bay & Waupaca is the HO scale version of the Green Bay Route taking shape in my basement.
---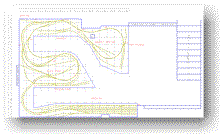 Green Bay & Waupaca Track Plan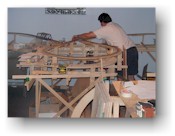 Laying track on the Green Bay & Waupaca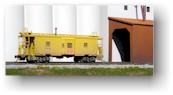 My model of GBW #617
Layout at a glance
Name: Green Bay & Waupaca RR
Scale: HO (1:87) Size: 14 x 15 feet
Theme: Green Bay & Western
Locale: eastern Wisconsin
Era: 1966
Layout height: 44" to 52"
Benchwork: L-girder
Roadbed: cork on 3/4" plywood
Track: Shinohara code 83
Turnout minimum: no. 5
Minimum curve radius: 24" (21-5/8" on inside track on passing sidings)
Maximum grade: 2.5 percent
Scenery construction: plaster shell and rock castings over cardboard web (planned)
Backdrop: Sky blue walls and ceilings
Control: Wangrow System One DCC
Here's the plan and background information on my layout. Benchwork is up and now track laying and wiring (and even some structure work) has begun.
Check out my first GBW model: caboose #617, modeled as it would appear not long after it was delivered in 1966 -- with windows and roofwalk intact.
A little Q & A about the Green Bay & Waupaca RR:
Why the 1960's Green Bay Route as a prototype?
Why the Green Bay & Waupaca for a model?
---
I grew up in the 1960's in New Franken, on the Kewaunee, Green Bay & Western RR line to the Lake Michigan carferry docks. Likewise, my parents, grandparents, and great-grandparents did the same in previous generations. My great-aunt & -uncle lived on Norwood Street in Green Bay, less than a block from the street entrance to the Norwood shops. I went to junior high school in Casco and high school in Luxemburg, also towns on the Green Bay Route.

To me, the word "railroad" was synonymous with the red-and-gray locos and yellow cabooses of the Green Bay Route.
Basing my model layout on the fictional Green Bay & Waupaca RR serves these purposes:
1) My interest is one-person operation of way freights, which is about as far from the Green Bay Route's bridge line operations, so a free-lance prototype seemed appropriate;
2) My family lives near Green Bay and my wife's family lives near Waupaca, so a line connecting the two towns makes sense;
3) It allows me to paint locos and cabooses following gondola&W practice;
4) The fictional aspect allows me to incorporate various free-lance aspects that interest me.
The basement layout room is 14 x 15 feet with walls on three sides. Ceiling and walls are finished plaster and the floor is carpeted.
A plan of the layout is at the here. The layout is designed for one operator to follow his/her train along the layout. All but one turnout is within 24" of the layout edge, and no turnouts are concealed in hidden trackage.
They layout was designed for one-person operation in an out-and-back fashion. A session consists of assembling a train in the Green Bay yard and then a way freight works its way to the division point at Stevens Point and return, working industry spurs along the route.
Layout construction is progressing very s-l-o-w-l-y. The framing is convention L-girder, with 3/4" plywood subroadbed. Roadbed is cork on the mainline and Homasote in the yard. Track laying and wiring is complete in Green Bay and tracks are now being laid through Black Creek.
Lighting consists of a minimal amount of recessed ceiling lights, though I have left wiring outlets and intend to install florescent lighting balanced for daylight and valences along the ceiling.
The towns are selected to roughly follow the prototype Green Bay Route from Green Bay to Stevens Point, Wisconsin. As is typical for many model layouts, distances are very compressed! The entire layout has under two scale miles of main line, while the prototype took almost 90 miles to cover the same distance! (Fortunately, this layout is designed for way freight operation and not timetable running.)

Industries are selected to maximize switching possibilities for a way freight.

Here's my list of towns and industries. You might want to view the layout plan.
Green Bay (Norwood Yard)

Like many model railroads, I anticipate acquiring an excess of rolling stock over time, so I added a little more yard length than perhaps is typical.

True to the prototype Norwood Yard in Green Bay, I intend to have the Strid Grain Elevator looming over the yard. In my case, it will be used to help conceal some water pipes hidden behind a box-out in the wall.

The Cold Storage Warehouse is a nod to both my great-uncle who lived right by the real Norwood Yard (he worked at a coal and ice plant) and the Cheese House district of the east side of Green Bay.

My Norwood Shops are a lot smaller than the real thing -- I don't even have room for a turntable. Engines will be reversed by running out to the return loop at Black Creek. Normal operation will be by two diesels running back-to-back so this shouldn't be a big issue.

Norwood Shops
In - Fuel (tank), Castings (flat), Sand (gondola)
Out -

TOFC/Team #1
In - TOFC (flat)
Out - TOFC (flat)

Cold Storage Warehouse
In - Meat (reefer), Beer (reefer), Boxes (boxcar), Ammonia (tank)
Out - Products (reefer), Ice (reefer)

Freight Warehouse
In - Products (boxcar)
Out - Products (boxcar)

Strid Grain Elevator
In - Grain (covered hopper boxcar)
Out - Grain (covered hopper boxcar)

Black Creek

After crossing the Duck Creek a little west of Green Bay, the line begins an uphill grade, and the first stop on the journey west is Black Creek. A Soo Line interchange with the Green Bay Route is here.

The building materials warehouse is a nod to my past: my first job out of high school was working for Wisconsin Wholesalers, a similar warehouse in Green Bay. Unloading boxcars of insulation on a hot day is not fun work!

The Sand & Cement and Steel Fabricator are the result of my current employment as a civil engineer.

Sand & Cement Company
In - Cement (covered hopper), Fly ash (covered hopper), Stone (covered hopper), Gypsum (covered hopper), Coal (covered hopper)
Out - Cement (covered hopper), Cement (boxcar), Sand (gondola)

Interchange
In - All
Out - All

Steel Fabricator
In - Steel coils (flat), Steel shapes (gondola), Castings (boxcar flat), Supplies (boxcar)
Out - Fabricated steel (flat gondola), Scrap metal (gondola)

Wisconsin Wholesalers
In - Steel Fabrications (boxcar), Cement (boxcar), Supplies (boxcar), Castings (boxcar), Roofing asphalt (tank)
Out -

Grain Milling
In - Boxes (boxcar), Spent grain (boxcar covered hopper)
Out - Flour (covered hopper)

Shiocton

Located near the highest point on the layout, Shiocton is the smallest town on the layout. A lonely Stockyard is situated out here. I don't believe that the Green Bay Route had any stock cars, but I'll use the stockyard as an excuse for adding some to my layout.

Stockyard
Out - Livestock (stock car)
In - Spent grain (covered hopper boxcar)

New Franken

What is a KGB&W town doing out here? I took a little liberty and inserted my home town on the layout. It's in a very conspicuous viewing location, too.

The feed mill will be modeled after Basten's Farm Supply. My grandfather worked here during the time I was growing up in New Franken in the 60's. I have fond memories of visiting grandpa down at the feed mill.

There are oil tanks in New Franken, though they are not served by the railroad. I've not been able to find out if they ever where in the past. In my model layout, Van Dreese Oil will be!

Greiling's Lumber was located in New Franken, though it went out of business after the second world war.

Basten's Farm Supply
In - Spent Grain (covered hopper boxcar), Farm Supplies (boxcar)
Out - Grain (covered hopper boxcar)

Van Dreese Oil
In - Oil (tank)
Out - Oil (tank)

Greilings Lumber
In - Wood (boxcar gondola)
Out -

Amherst Junction

By this point the Green Bay & Waupaca has begun its descent to the Wisconsin River at the far end of the layout.

The Green Bay Route had a unique over/under crossing with the Soo Line at this point. The physical limitations of the layout required a tunnel at this point, so I'll try to incorporate features of the unique crossing where the upper track crosses over the lower one.

The canning plant will be a division of Green Bay Foods, Inc. In the later years of his life, my grandfather had a job repairing machinery for Green Bay Foods, which took him to many of the towns along the east half of the Green Bay & Western.

Box & Crate
In - Cardboard (boxcar), Plywood (boxcar), Plastic pellets (covered hopper)
Out - Boxes (boxcar)

Scrap Yard
In - Scrap metal (gondola), Crushed cans (gondola)
Out - Scrap metal (gondola)

Green Bay Foods
In - Vegetables (reefer), Boxes (boxcar)
Out - Canned goods (boxcar, reefer), Vegetable oil (tank), Soybean meal (covered hopper)

Waupaca

The branch line to Waupaca separates from the main line at Amherst Junction.

McLauren Haggis Company will be a packing plant which receives livestock from Shiocton and iced reefers from Stevens Point. The name is a nod to my father-in-law who lives in Waupaca, and is proud of his Scottish heritage.

The actual Waupaca Foundry is the largest employer in the area, but it was actually served by the Soo Line, since the Green Bay Route abandoned the Waupaca Branch in 1947.

I would have liked to have included a potato company in Waupaca but limited space will force me to locate an all-purpose Team Track here instead. I guess I'll have to settle for the canning plant in nearby Amherst Junction.

Waupaca Foundry
In - Scrap metal (gondola), Foundry sand (covered hopper), Supplies (boxcar), Boxes (boxcar)
Out - Castings (boxcar), Castings (flat), Waste (gondola)

TOFC/Team #2
In - TOFC (flat)
Out - TOFC (flat)

McLauren Haggis Company
In - Livestock (stock car), Boxes (boxcar), Ammonia (tank)
Out - Meat (reefer), Hides (boxcar), Tallow (tank boxcar), Lard (tank), Bone Meal (boxcar)

Stevens Point

This represents a division point on the layout. The actual Green Bay Route's division point was in Wisconsin Rapids and Stevens Point was served by a branch. What had been Duck Creek near Green Bay's Norwood Yard has miraculously become the Wisconsin River when the far end of the line is reached! I took a little modelers license because I wanted to include a brewery because of the varied car types it receives...

...and if you're going to model a brewery in central Wisconsin, there's only one that will do: Stevens Point Brewery. The real Stevens Point Brewery was served by a spur of the Stevens Point Branch.

The nearby Ice House will be used to ice cars for the brewery, the packing plant in Waupaca, and the cannery in Amherst Junction.

Stevens Point Brewery
In - Corn syrup (tank), Corn, Malt, Barley - (covered hopper boxcar), Boxes (boxcar), Cans / bottles (boxcar), Hops (reefer), Cleaning chemicals (tank)
Out - Beer - (reefer boxcar), Spent grain (covered hopper boxcar), broken bottles (hopper), Crushed cans (gondola).

Ice House & Icing Platform
In - Meat (reefer), Canned Goods (reefer), Beer (reefer), Ice (reefer)
Out - Meat (reefer), Canned Goods (reefer), Beer (reefer)