---
Added May 2013:
---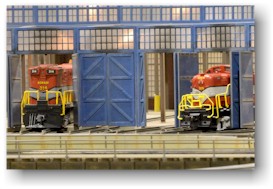 2013 Titletown Train Show
Green Bay & Western railfanning at the Titletown Train Show in Green Bay, Wis. on April 27-28, 2013.
---
Added April 2013:
---

Alco S-2 Switcher
(O)
MTH is producing their Alco S-2 switch engine lettered as Kewaunee Green Bay & Western #201. The model is equipped with MTH's Proto-Sound 3.0 DCC sound system, a smoke unit, remote controlled couplers, directional headlights and a lighted cab interior and number boards.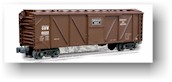 Wood Boxcar
(O)
Weaver is producing their ready-to-run outside-braced 40' boxcar model lettered for GBW 6022, 6056 and 6244.
---
Added May 2013:
---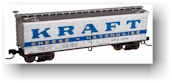 Kraft Wood Reefer
(HO)
Atlas is producing their 40' Wood Reefer in two Western Refrigerator lines road numbers with KRAFT CHEESE MAYONNAISE billboard lettering.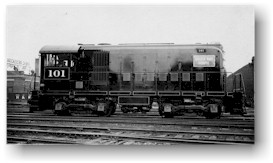 GBW #101
(1938)
Engineer Alfred W. Daniels is operating the 600-horsepower switch engine at Green Bay's Mason Street Yard in the fall of 1938.
---
Added February 2013:
---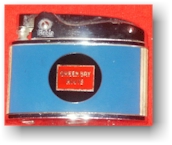 Cigarette Lighter
This Noble Super Automatic pocket lighter advertised the GREEN BAY ROUTE on its sides.
Upgraded Alco S-2 with Sound
(HO)
Atlas has retooled their HO scale S-2 locomotive and it is available DCC-ready (Atlas Silver line) or with DCC sound (Atlas Gold line).
---
Added November 2012:
---

Alco C-430
(HO)
Bowser has announced production of an Alco C-430 model. The model will have correct details for the GBW #315, including Hi-Ad trucks, fuel tank and no dynamic brakes.
Transfer Caboose
(HO)
Bluford Shops is producing HO scale transfer cabooses in five different body styles. At this time a model lettered for the GB&W is not available, but the Bluford Shops representative in Milwaukee told me that they plan on producing all of the road names previously done in N scale-- and GBW #102 & #104 were in their N scale line.
---
Added October 2012:
---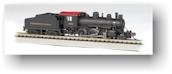 Alco 2-6-0 Mogul
(N)
Bachmann is producing an N scale DCC-equipped Alco 2-6-0 Mogul based on a GB&W prototype. GB&W is not one of the road names offered.
For a list of