An interesting switcher which operated briefly on the GB&W but never was repainted.
---
Alco S-6 #1201 was built May 1955 (Alco builders number #80924) for the Southern Pacific Railway. It was delivered as SP #1034 and renumbered to SP #1201 in 1965.

#1201 came to the Green Bay & Western in April 1979 under lease from Chrome Crankshaft. It was used to handle switching chores at Norwood Yard prior to the five Hornell units (GBW #319-323, ex-Conrail engines rebuilt by General Electric in Hornel, N.Y.) coming on line and working properly. It apparently was deemed short on horsepower and leased out to Nekoosa-Edwards Paper Co. (NEPCo) around July, 1979.

For unknown reasons, #1201 was returned to the Green Bay & Western, where it was put into yard service by January 1981. The GB&W bought it, then turned around and sold it to James River Paper Company where it went into service in Green Bay as #1201 in early 1982.

There has been debate whether the GB&W actually owned the locomotive. Conversations with the shop crew indicates they owned it -- note the red all weather windows and other details -- but paperwork to that end has never come to light. (Add to this the fact NEPCo went to Alco 251 powered units about this time, yet passed on buying it.) As they say, inquiring minds want to know....

This locomotive was purchased by the National Railroad Museum in 1997 with funds from the Donnelley Foundation with some parts and tools donated by Wisconsin Central for servicing the unit. It was painted as CNW #1003 for the first decade at the museum before being repainted as the (fictional) GBW #106 in 2007. It is still operational and used to haul excursion trains around the museum grounds.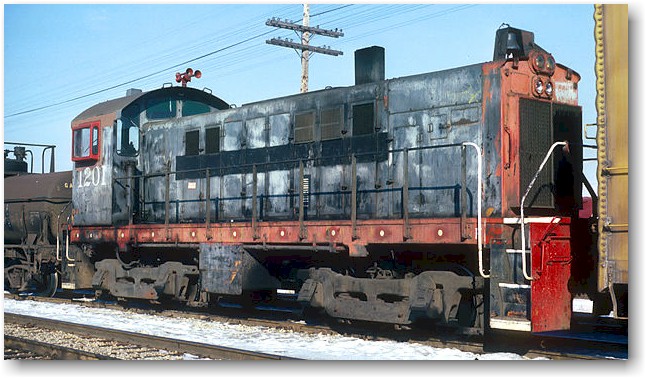 John Campbell photo, January 24, 1981.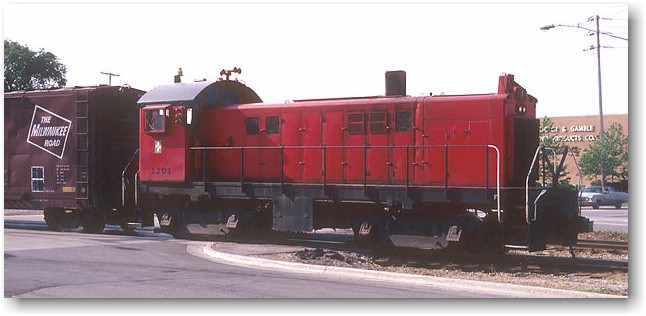 John Campbell photo, June 13, 1983.