.On the railroad right-of-way next to a feed mill at the crossing near the dairy plant.
---
This appears to be the original depot built in 1874. If so, it is one of the oldest depot still in existence on the Green Bay Route (along with the nearby Blair depot).
Now owned by the Farmers Co-Op Oil Company. It is painted solid white with plywood over all the windows. The depot sort of blends in with the rest of the feed mill complex.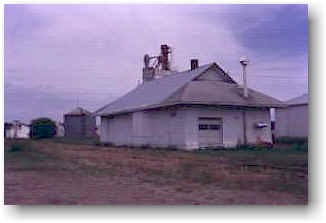 Bob Gile photo.
May not be reproduced without permission.