GBW wooden caboose #609 near the end of its service on the railroad.
---
In the steam era the railroad had a total of sixteen cabooses similar to this one, all from second-hand sources. By the mid-1960s, only GBW #605, 609, 611 and A&W #33 were the survivors --- the rest had been rebuilt as steel transfer cabooses or scrapped.
Caboose #609 was usually assigned to the Plover local in the 1960s. The last known photo of this caboose was taken June 29, 1967.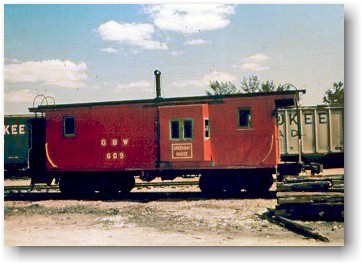 Photographer unknown, August 1966.
From the collection of Scott Janz.