Caboose #607 at Wisconsin Rapids.
---
The history of this caboose is uncertain. Photos taken soon after the 1937-1940 rebuild program show caboose #607 to be a "standard" length caboose. By the time of this 1967 photo the car is definitely longer with windows located high at the ends of the caboose. Was the caboose rebuilt, or is it a different car?

For more information, see the Green Bay Route caboose roster.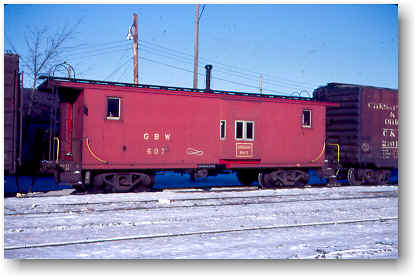 Joe Stauber photo, February 11, 1967.
From the collection of Scott Janz.