The entire GB&W business car fleet of the 1980s.
---
One of the Green Bay & Western's RS-20s pulls the entire GB&W business car fleet westbound at Plover.
Behind the locomotive is the Trempealeau River. It was purchased by the GB&W in 1982. This car and engine #312 were the only two pieces of equipment to carry the unique red and white chevron paint scheme.
Car #1776 brings up the rear of the train. This car is essentially a long caboose, built on a 50 foot underframe in 1972.
Related information: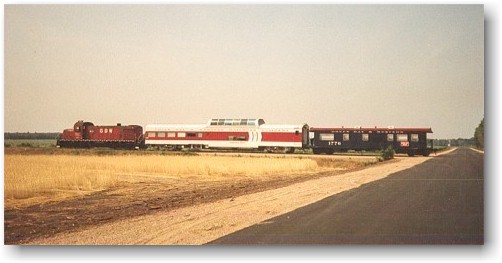 Notice: This image is owned by Bob Schoneman and may not be reproduced without permission.