Locomotive #2404 was one of six ex-AT&SF/LS&I RSD-15 "Alligators" which wound up on the Green Bay & Western in the last years.
---
The RSD15's were acquired from the Lake Superior & Ishpeming in 1989 (or perhaps LASCO -- LS&I's leasing company) by Itel Corporation for use on the Green Bay & Western's sister road, the Fox River Valley Railroad. The locos were originally Atchison, Topeka & Santa Fe units built in 1959 and 1960. They ran to Chicago a few times but did not run long on the GB&W. During the Canadian Indian Crisis when American Indians blocked rail lines in Canada there was increased traffic on rail lines in the northern United States and these engines made extra trips at that time.
The Chicago & North Western banned them from trackage rights on the C&NW after they broke down and blocked trains, but many people at the time wrote that off to C&NW harassment of the FRV, which was created from rail lines spun off by the C&NW.
By the early 1990's the six locomotives were stored at GB&W's Norwood Yard in Green Bay. One can imagine that they were pretty well worn out after years of hauling iron ore drags on the LS&I. One by one, they were scrapped. The final one -- #2403 -- was dismantled in March 1996. The picture below shows one of the last RSD-15's in the Wisconsin Central's North Green Bay Yard in 1992.
A special thanks goes out to Rich Carlson, Michael Kehoe, and Steve Sillato for the background information on the GB&W RSD-15's locomotives, and Bob Schoneman for sharing this photo.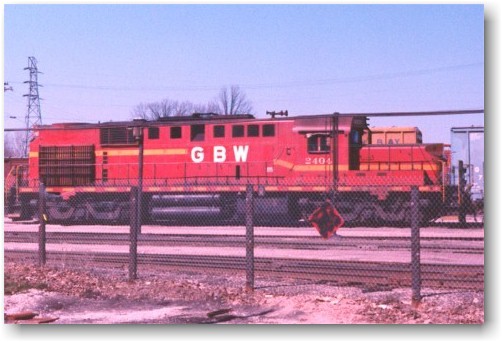 Notice: This image is owned by Bob Schoneman and may not be reproduced without permission.