Precision National RS-27 #901 was soon to be repainted and renumbered as Green Bay & Western #318.
---
#318 After Repainting: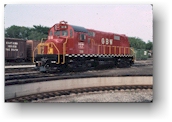 PNC #901 after being repainted as GBW #318, taken in June, 1976.

This locomotive was one of four purchased by the Chicago & North Western in 1962. Two others of this set became GBW locomotives in the late 1960s, while this unit was purchased by Precision National and leased for several years before it too joined the GBW roster in 1976.
Fran Wiener captured PNC #901 at the Soo Line's Shops Yard in North Fond du Lac, Wis in May 1976 as the the locomotive was en route to the Green Bay & Western. After some testing and minor shop work in GBW's Norwood Yard upon arrival (the addition of a new air horn, an all-weather window, and conversion to the GBW's 21-pin multiple-unit connection are the most obvious changes), the loco went directly to the paint shop. There is no record of it ever going over the road while still in black paint.