Ex-GBW #308 re-lettered for the Wisconsin Central.
---
RS-20 #308 was captured at Donovan, Illinois in September 1995. This was two years after the Green Bay Route was merged into Wisconsin Central's Fox Valley & Western subsidiary. The photo shows the changes made to the loco after the WC purchased it.
The billboard "GBW" letters on the long hood were painted out.
The "Green Bay Route" herald was painted out and the initials "WC" added to the cab side.
The all-weather window was painted white (why?).
Not long after this photo was taken, the Alco locomotive was sold to the Kankakee, Beaverville and Southern Railroad, where it still operates as #308 today.
A thanks goes out to Bob Schoneman for sharing this photo.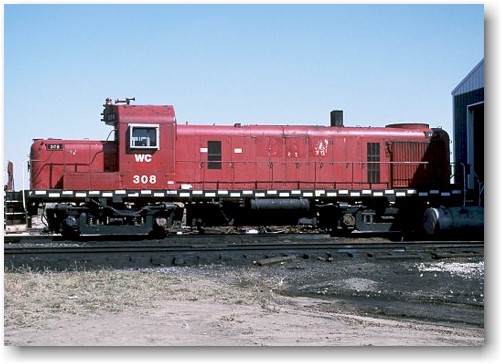 John T. Eagan Jr photo, September 28, 1995.
From the collection of Bob Schoneman and may not be reproduced without permission.