GBW #318, #320, #314, and #319 ready for their next assignments.
---
Since the earliest days of the railroad, Wisconsin Rapids was a division point on the Green Bay Route, where locomotives were readied and crews were changed. This 1989 photo captured four GB&W Alcos ready for their next assignment:
#318 - One of the Green Bay Route's Alco RS-27s leads the quartet of power. This loco was originally a Chicago & North Western unit that was purchased by the GB&W in the late 1960s to meet increased traffic traveling between Ford Motor Company plants in Detroit and Minneapolis.
#320 - An Erie Lackawanna C-424 acquired in 1980. Notice the yellow steps and white number boards on this unit, which was the standard paint scheme in the 1970s..
#314 - Of the four locomotives on the track this day, Alco C-424 was the only one that was purchased new by the GB&W.
#319 - Another unit acquired in 1980, #319 was the only C-424 that the Pennsylvania Railroad had on their roster.
A thanks goes out to Scott Janz for sharing this photo.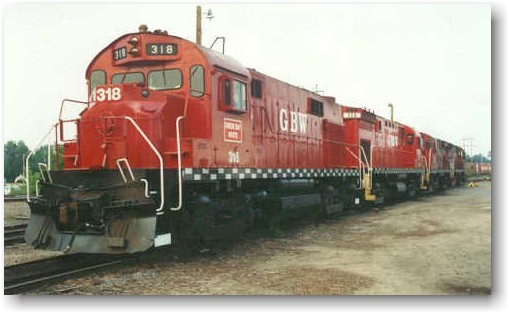 Scott Janz photo, August 1989 .
This photo may not be reproduced without permission.