GBW #305 with a Fox River Valley Railroad engine at Wausau WI.
---
Dwindling traffic in the late 1980s due to a loss of carferry service on Lake Michigan and the loss of the Mississippi River bridge at Winona left the Green Bay Route with an excess of diesel power on the line. The railroad leased some of their units to other railroads to help balance the power requirements. GBW #305 found itself on loan to the Fox River Valley Railroad. The FRVR began operations on in 1988 and was finally merged with the GB&W in 1993, bringing 130 years of the Green Bay Route to an end.
This undated photo from the collection of Bob Schoneman captured GB&W #305 with an ex-C&NW engine on the FRVR at Wausau, Wisconsin.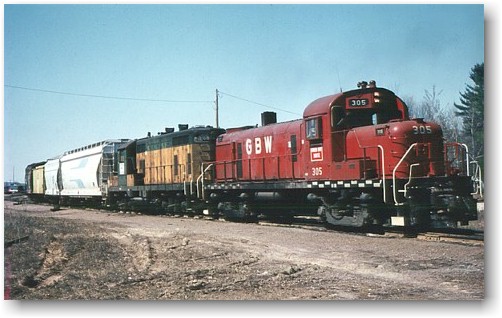 Bob Schoneman photo, undated.
This photo may not be reproduced without permission.