Green Bay & Minnesota's grain elevator at Eastmoor on the Mississippi River from an 1874 lithograph.
---
In January 1874, the Green Bay & Minnesota surveyed a three mile extension from Marshland to the Mississippi River. Construction began the following month on Eastmoor, a grain elevator and warehouse complex with access to both the Green Bay Route and steamers and barges on the river. Construction was completed in the fall of 1874. Eastmoor was considered one of the busiest and best elevators on the upper Mississippi River at the time.
The enlarged view of Eastmoor shown below is from an lithograph published by Chas. Shober & Co., Chicago in 1874, making it one of the earliest views of the facility. The original lithograph is part of the Library of Congress American Memory digital library. Eastmoor is in the lower left corner of the print. The tracks and bridge across the Mississippi River on the right side of the print are the La Crosse, Trempealeau & Prescott Railroad (later part of the Chicago & North Western), over which the Green Bay Route had trackage rights until the construction of the Winona Bridge in 1891.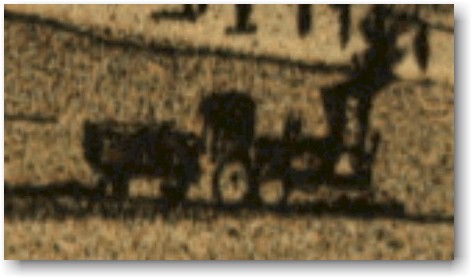 The 4-4-0 engine on the lithograph.
The elevator was designed by J. T. Moulton & Sons, Chicago, who also designed the elevators at the Minnesota cities of Duluth and Stillwater. It held 150,000 bushels and stood 100 feet high. Several boxcars are lined up next to the elevator, and several cuts of cars are on the nearby yard tracks. There is also a 4-4-0 locomotive in the yard. There were eleven 4-4-0's on the GB&M roster in 1874, #2 through #12.
On May 17, 1877 disaster struck when sparks from the Belle Of La Crosse ignited the elevator. The Eastmoor complex, along with 3500 bushels of wheat and 23 boxcars were destroyed. Eastmoor was subsequently rebuilt, but to only half the size of the original structure. Eastmoor was abandoned in the early 1880's.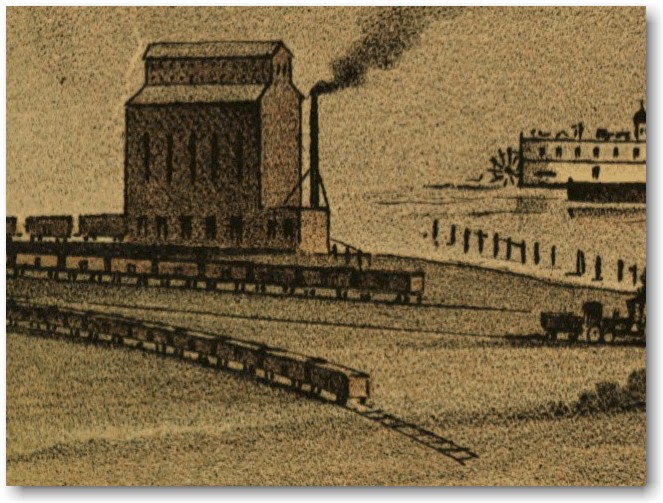 Here's the legend from the bottom of the lithograph.