Postcard image of the station on the W-GB, which was once a Lutheran church.
---
After failed attempts to get either the Chicago & North Western or Milwaukee Road to extend their lines to Waupaca and end the monopoly of the Wisconsin Central, the Waupaca - Green Bay Railway was incorporated on January 8, 1907 to connect the city to the Green Bay Route's main line at Scandinavia. The 9.8-mile railroad took a dog-legged path, passing near a granite quarry northeast of town before turning west to the GB&W tracks.
W-GB's only depot was the former Holy Ghost Evangelical Lutheran Church which remained standing until the late 1970's. The building, located on the north side of Mill Street at State Street, had to be moved ten feet to make room for the station tracks. From the depot, the W-GB line paralleled the Wisconsin Central tracks to the potato warehouse district a few blocks east.
After years of financial hardship, the W-GB RR was purchased at public auction and became a branch of the Green Bay & Western in 1922; it was abandoned in 1947. After the railroad was abandoned the depot became a storage warehouse for the nearby Gray Czeskleba Oil Company.
This was not the only rail line which carried the name "Waupaca" -- in 1898 the Waupaca Electric and Light Railway Company began supplying electricity to the city, as well as providing a five-mile street and interurban line to nearby King until it was abandoned on July 4, 1925.
This picture postcard is owned by my father-in-law, Dave Baker. It is postmarked 1908, ironically the same year that asphalt roads came to Waupaca.
Related Material: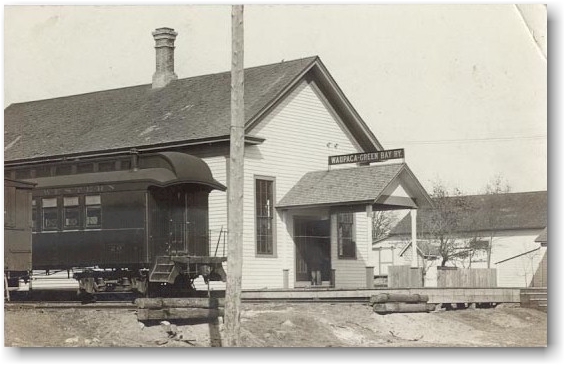 Notice: This image is owned by Dave Baker.