A busy morning at Scandinavia.
---
Although this postcard was published in the 1980's, it shows a scene from about 1910. Scandinavia's Union Depot was a busy junction point at this time. Trains from three different railroads are shown here.
Green Bay & Western train westbound train #1 faces the camera. A connecting train from the Iola & Northern is on the left of the photo, while a train from the Waupaca - Green Bay waits on the south side of the station on the right side of this photo.
The Iola & Northern was purchased by the GB&W on December 28, 1914 and the branch was abandoned June 1, 1958. The GB&W foreclosed on the Waupaca - Green Bay on December 15, 1921 and abandoned it on July 4, 1947.
The sole combination car behind the I&N loco holds a very special place in my Green Bay Route memories. After serving on the I&N, it was retired from service during the Great Depression and then served as the depot at New Franken, my hometown. Eventually it wound up in a field about a half mile away from my grandfather's farm, where it remained until the 1990's. The car was such a regular sight it was just taken for granted... never did I question what it was doing out there! I just figured that it must have been there forever!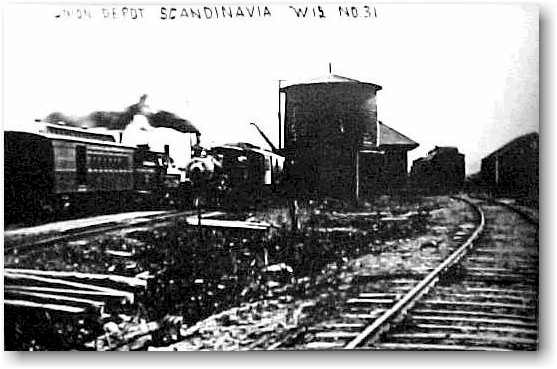 Postcard, ca. 1910.