Photos from a special passenger excursion trip from Algoma to Casco Junction.
---
On Sunday, September 24, 1978, I took an excursion trip over the Ahnapee & Western Railroad. The trip went from Algoma (formerly known as Ahnapee) to Casco Junction, and returned back to Algoma after a brief layover at Casco Junction. There were a few "firsts" for me that day: it was my first ride ever on a train (I was sixteen years old at the time), and these four photos were the first pictures I ever took with my new 35mm SLR camera. If the excursion had been a week earlier you would be looking at 110 format photos on this page!
Compare these photos to one taken during a similar 1976 excursion.
Enjoy the photos...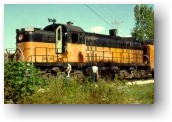 Engine #988 - The excursion was powered by engine #988, an ex-Milwaukee Road RSC-2, as is obvious by its paint scheme. Here it is at the layover at Casco Junction. It looks like someone's baby is getting a close-up view of the engine.
Here are some enlarged details from the photo:
---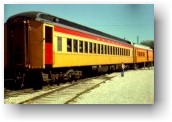 Passenger Cars - There were two cars in tow, coach number #68 and an unidentified baggage car. Here are the two cars at Casco Junction. These are ex-CB&Q equipment.
Here is an enlarged detail from the photo:
---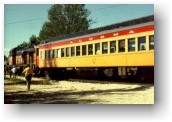 Coach #68 - In contrast to the faded paint of loco #988, the passenger cars were freshly painted. Both cars had a similar paint scheme.
Here is an enlarged detail from the photo:
---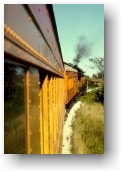 Eastbound to Algoma - Engine #988 leads the excursion back to Algoma. This photo was taken near Rio Creek.
Here is an enlarged detail from the photo: