A postcard aerial view of Kewaunee harbor, showing the car ferry yard and boat slips.
---
The view is looking east into Lake Michigan. The card was postmarked 1950.
Kewaunee is located where the Kewaunee River enters Lake Michigan. The Green Bay Route followed the river from Casco Junction, east to Kewaunee, where trains were transferred to ferry boats operated by the Chesapeake & Ohio (Pere Marquette until 1947) and Ann Arbor railroads. The ferry yard is located on the peninsula on the north side of the harbor entrance (the left side of the postcard). In addition, the Green Bay Route had a spur track to serve the old passenger station and local industries in Kewaunee, including the Kewaunee Co-Op.
The Green Bay Route was completed to Kewaunee in 1891. Originally, freight was transferred to steamships. Plans were soon expanded to use car ferries to carry entire trains across the lake. Construction of the car ferry yard began in August 1892. The first car ferry, ANN ARBOR NO. 1, had her maiden voyage into Kewaunee on November 26, 1892, carrying 4 carloads of coal. A second slip was built later 300 feet north of the first, to accommodate the growing fleet of ferries serving the port. Ferry service continued for almost 100 years, until November 16, 1990 when the S.S. BADGER made her last crossing under the Michigan-Wisconsin Transportation flag
Kewaunee's first bridge was constructed across the river at the end of Main Street in 1868. This structure was dismantled in the 1880's when the car ferry slip was built. In 1897, the Frank Hamachek Machine Co. erected a pontoon bridge to the ferry slip, but it only remained in use a few years.
In the 1950's, two FA-1's out of Green Bay would normally handle the boat switching work. By the 1970's one or two of the C-424's or RS-27's would handle the task.
Related material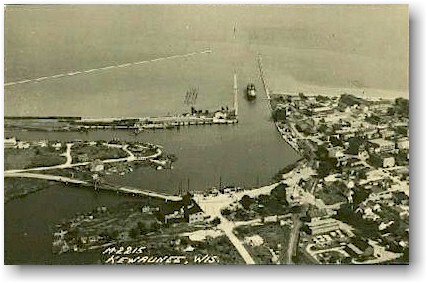 Postcard, 1950.