Consolidation #399 switches the gravel pit on the east side of the Black River in Hatfield.
---
The freight cars behind the steam 2-8-0 loco appear to be Hart convertible gondolas, part of KGB X7001-X7039. The "convertible" part of the name comes from the fact that the gondolas had doors in the floor of the car which could be configured to dump ballast either between or outside of the rails. The cars were built in 1924 for the Wisconsin & Michigan Railroad as #2500-2359; they came to the Green Bay Route in the mid 1930s and some of the cars remained in service until 1973. Most -- if not all -- of the Hart gondolas rode on their original truck sideframes to the very end, and they were clearly stamped "W&MRR" in the truck casting!
Vi Teeples took this unique photo in the 1940s, and it is shared by Vi's friend Phil O'Keefe.
Related links:

Aerial View of Hatfield - including the Winona Sand and Gravel pit east of town.

Green Bay & Western Railroad Making Improvements to Roadbed - an October 12, 1935 article from the Winona Republican-Herald, outlining the improvments being made to the railroad and the gravel pit at Hatfield being the source of the ballast for the entire project.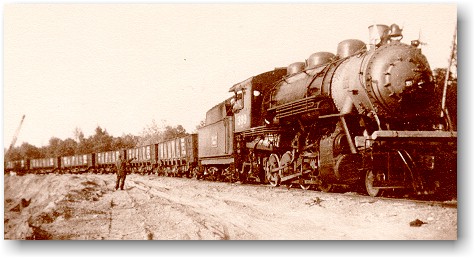 Vi Teeples photo, ca. 1945.
This photo may not be reproduced without permission.