Stevens Point station and a 4-4-0 locomotive.
---
The 24' x 56' station at Stevens Point was built by the Green Bay, Stevens Point & Northern Railroad in 1896. The five-mile long railroad had been leased by the Green Bay Route since its completion in 1882, and was fully merged into the Green Bay & Western in the summer of 1896. It operated as a profitable branch line serving the paper industries of the area, and interchanging with the Wisconsin Central Railroad (later the Soo Line).
The number of the locomotive is covered by the person sitting on the cow catcher, but it undoubtedly one of the 4-4-0 engines which were the mainstay of Green Bay Route power at this time.
The card was postmarked from Stevens Point in 1908 so the view is at least that old.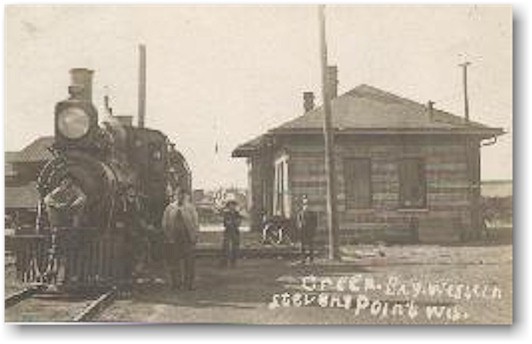 Postcard, 1908.